Aggeliki Papadimitriou, an Early Years teacher from Koridallos in Greece, has shared this picture with us. Her student Maria has for the first time independently transitioned and sat on the toilet with the help of visual supports, great teaching and perseverance. Maria experiences a lot of anxiety around going to the toilet but she loves princess Elsa from Frozen. Why not make this experience a little bit more pleasant and teach her how to go to the toilet independently by using a personalised symbol which shows her favourite character looking relaxed while sitting on the toilet? Brilliant!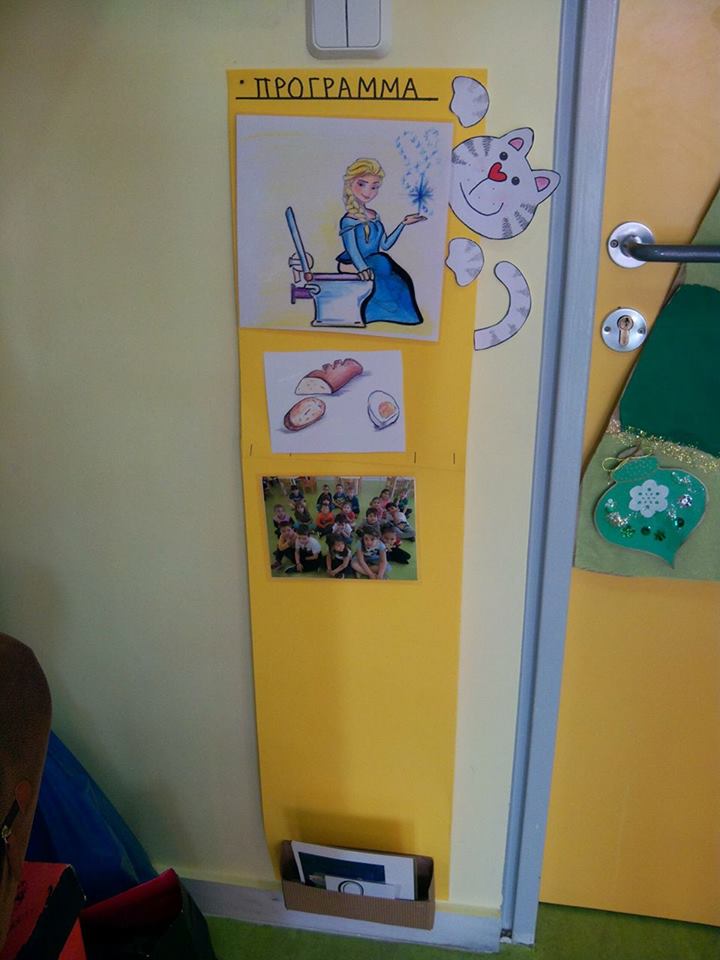 Visual Supports for Transitions
Visual supports can be used in many different ways. Visual supports can provide structure and routine, encourage independence, build confidence, improve understanding, avoid frustration and anxiety, and provide opportunities to interact with others. They can also help children transition from one classroom activity to another or from one location to another without relying too much on adult support: eg Mary takes the toilet card from his/her timetable in the class and after transitioning to the toilet, she matches it to the same card in the toilet. Visual supports can be: objects, photographs, drawings or symbols.
The use of visual supports during transitions can decrease anxiety and increase independence. The student finds the symbol of each location/activity on her timetable. This allows her to see where she is expected to go and provides predictability. The student will then carry the symbol to the final destination. This helps her continually check if she is moving towards the right place. When she arrives at the destination, she matches her symbol to the same symbol, which is placed in a small bag or box in the toilet. This shows that she has arrived to the right place.
From the National Autistic Society website:
'Personalised

Visual supports are very personal and what works for one person may not work for another. Use the person's special interest, eg a visual timetable could be made in the shape of a rocket.

Remember that some autistic people have difficulties generalising, eg they may not realise that a Hula Hoop packet symbolises all crisps.

It can sometimes be helpful to use more than one type of visual support, but always introduce visual supports gradually. Start off with one symbol and then build up a collection.'
You can find more information on visual supports on the National Autistic Society website: http://www.autism.org.uk/visualsupports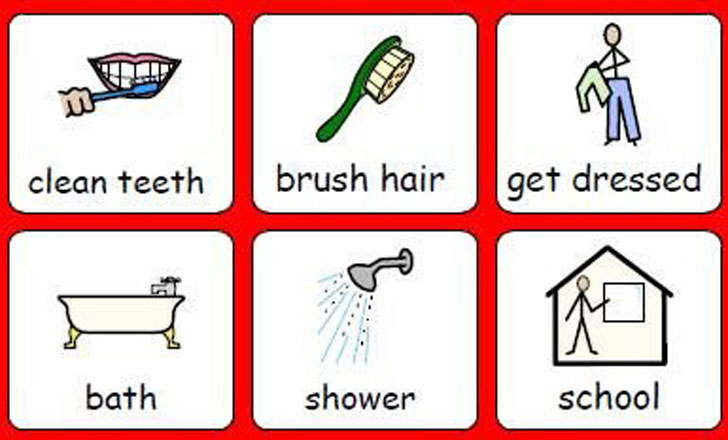 References: 
Dettmer, S., Simpson, R., Myles, B., & Ganz, J. (2000). The use of visual supports to facilitate transitions of students with autism. Focus on Autism and Other Developmental Disabilities, 15, 163-169.
Flannery, K. & Horner, R. (1994). The relationship between predictability and problem behavior for students with severe disabilities. Journal of Behavioral Education, 4, 157-176.
Mesibov, G., Shea, V., & Schopler, E. (2005). The TEACCH® approach to autism spectrum disorders. New York, NY: Plenum Publishers.
Sainato, D., Strain, P., Lefebvre, D., & Rapp, N. (1987). Facilitating transition times with handicapped preschool children: A comparison between peer mediated and antecedent prompt procedures.Journal of Applied Behavior Analysis, 20, 285-291.
http://www.autism.org.uk/visualsupports